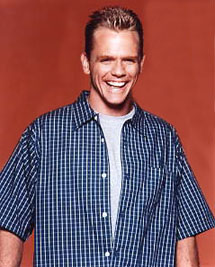 I happened to be watching Comedy Central the other weekend and caught a rebroadcast of a 2004 comedy special. It was
Norman Rockwell Is Bleeding
which is the one-man performance by Christopher Titus. Born in 1964, the native Californian's comedy act is really a look at his dysfunctional family life in a rather humorous way. His father was an alcoholic and a womanizer who would rather his sons learn by their actions not to do stupid things versus just telling them not do. He constantly referred to his boys as "wussies". His mother suffered mental illness and killed her second husband. Titus' and his younger brother Dave's lives were forever impacted by the environment in which they were raised.
Now, most of those things aren't really a laughing matter. But, as the special pointed out, according to a national study at the time over 68% of the families were now considered dysfunctional. As Titus puts it, "that makes us the majority".
In 2000, FOX optioned with the him a chance to turn his comedy act into a weekly sitcom show. Simply called
Titus
, the show ran three seasons total. My wife and I were faithful fans of this show. We would watch every week without fail. It was a laugh-out-loud show for us; totally one of those shows we knew was about stuff folks shouldn't laugh at but we do. We like to call these kinds of shows "we're so going to Hell for watching this" shows;
South Park
and
Two And A Half Men
are frequently in this category too. And, for once, FOX didn't screw up and cancel it after the first couple months.
A couple years ago, the entire show was released on DVD - the first set covering seasons 1 and 2, and the last set covering season 3. There was no question that these were "keepers" for us. Anyone who has seen the show and seen this comedy special knows that Titus took quite a bit of his personal experiences as foundation for the program. There are whole episodes lifted entirely from vignettes in his comedy routine, brought to life with such wonderful actors as Stacy Keach (playing his father on the show) and Cynthia Watros (playing his girl-friend/wife Erin).
The comedy was and is dark - very very dark. But, it is dark in such a way that it also shines out a light of truth. Do we see a little of our own family or friends or co-workers in these characters? If we're truly honest with ourselves, we have to admit that we do indeed. And perhaps, through a presentation in a humorous way of these issues, we can feel that we're not alone out there or we can learn a bit from them. Or, at the very least, we can be a bit thankful that our own lives aren't nearly as dysfunctional as that of Titus and his family. And, I think, those are the messages he tries to bring across to the audiences.
Oh, one last thing, when watching this comedy special I couldn't help but think that Christopher Titus would make a great Joker in a live action Batman film. His physical comedy is spot on. And when he gets that maniacal grin on his face - perfect!