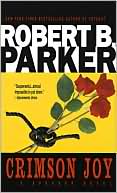 Crimson Joy
is the fifteenth book in the Spenser series by Robert B. Parker, written in 1988. This time there is a serial killer running around Boston who leaves a red rose as a calling card. The police turn to Spenser to help out on the case, but the case quickly hits home for both Spenser and Susan.
The case once again leads to focus on the relationship between Spenser and Susan, as both their professional lives and personal lives interwine once more. However, for me, I didn't feel the drama and tension as much as I did with
A Catskill Eagle
. Perhaps it was the nature of the killer and his methods - which I found a bit put off by.
Anyone who is following my reviews notices I had to jump from the 13th book to the 15th book. Turns out, someone had the 14th checked out at the library so I waited about a week while I finished the ones I had. Still no return (not due to early May). So, I jumped ahead. I plan to go back and read that missing one as soon as it shows up, but for now I continue to move forward. Already started the 16th last night.